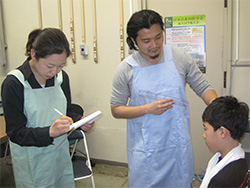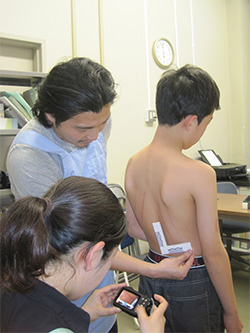 Clinical Forensic Medicine
In Japan, many people consider the main objective of legal medicine to be performing autopsies and determining a cause of death. Of course, investigating cause of death is one important responsibility of legal medicine, but in a broader sense the field deals with a wide range of medical issues involved with or involving legal matters, and providing fair judgments on these matters from a medical perspective, which includes living people.
For example, if legal evidence is required to prove that an injury to a living person is the result of an assault, the questions involved might include whether or not the suspected weapon actually caused the injury, the time the injury occurred, and the degree to which it has healed. An incident such as this may be raised as a question in court, and it is therefore an important task of forensic medical professionals to undertake physical examinations, evaluate the injury, and offer medical evidence-based advice from the forensic standpoint. They may handle a wide range of cases, including the examination of victims of child abuse or sexual abuse, medical evaluations of alcohol concentration of people involved in road vehicle accidents, and examinations of the concentration of toxic substances in cases of poisoning. In other parts of the world, particularly Europe, clinical forensic science is an established discipline, but in Japan, the reality is that it remains unsystematic both in terms of practice and as an academic discipline.
Since this department was established in April 2014, we have started to liaise with child consultation centers to examine children suspected of suffering abuse. We will also collaborate and liaise with other institutions to establish a framework for child abuse examinations in Chiba Prefecture.
Through these activities, we will continue to work to establish the practice of clinical forensic medicine while educating students and conducting research on the prevention of child abuse, with the objective of laying the foundations for the discipline of clinical forensic medicine in Japan.