About us
Greeting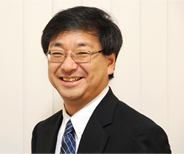 Professor and Chairman Toshinori Nakayama, MD, Ph.D
Welcome to the website of the Department of Immunology, Graduate School of Medicine, Chiba University!
In our department, about a total of 40 faculty members and students are working on research and educative activities on immunology. Mainly focusing on basic researches of immunological memory, we are conducting model studies on an airway inflammation disease and translational researches on allergy and cancer in collaboration with clinical doctors.
Our educational policy is guidance to "cultivate professional researchers." We seek to create an environment and opportunity where graduate students and young faculty members can actively discuss and collaborate with national and international researchers. We are aiming to discover and transmit information on principles related to the regulation of immunological memory, and to verify and present new treatment concepts in translational research. Thus, we are hoping to foster rapid progress in immunology.
Many graduate students have grown as young researchers and scientists from Chiba University through a Global COE program, "Global Center for Education and Research in Immune System Regulation and Treatment" of which I work as a program leader. We are looking forward to seeing the next generation of graduate students. Please feel free to contact us and visit our lab!