Member
Member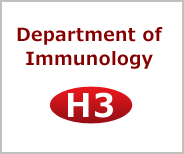 Associate Professor
Atsushi Onodera
Research area
Immunology, Epigenetics
Description of your research and your dream!
I am conducting research on epigenetics regulation of helper T cells and their roles in the immune system. Specifically, I am focusing on the Polycomb group and Trithorax group proteins, which originally have been identified in Drosophila and gained significant attention in the mammalian studies in the field of developmental, stem cell and cancer biology. Recently, I focus my effort to ChIP-seq and RNA-seq analysis using next-generation sequencer to understand the features of these proteins. Although Life Sciences is complex and difficult to grasp, my final goal is to discover the principle, which can be applied to any cells, tissues, or organisms through my fundamental research. Thus, I hope to contribute to the development of medicine.
Education
2002

B.S. The University of Tokyo

2006

M.D. School of Medicine, Chiba University

2010

Ph.D. Graduate School of Medicine, Chiba University
Experience
2008-2010

Fellow, Japan Society for the Promotion of Science (DC2)

2010-2012

G-COE Independent Assistant Professor, Chiba University

2012-2016

Assistant Professor, Chiba University

2016-Present

Associate Professor, Chiba University
Selected Publications
Onodera, A., et al.: STAT6-mediated displacement of polycomb by trithorax complex establishes long-term maintenance of GATA3 expression in T helper type 2 cells. J. Exp. Med. (2010).
Horiuchi, S., Onodera, A., et al.: Genome-wide analysis reveals unique regulation of transcription of Th2-specific genes by GATA3. J. Immunol. (2011).
Tumes, D.J., Onodera, A., et al.: The polycomb protein Ezh2 regulates differentiation and plasticity of CD4(+) T helper type 1 and type 2 cells. Immunity (2013).
Watanabe, Y., Onodera, A., et al.: Trithorax complex component Menin controls differentiation and maintenance of T helper 17 cells. PNAS (2014).
Onodera, A., and Nakayama, T.: Epigenetics of T cells regulated by Polycomb/Trithorax molecules. Trends Mol. Med. (2015).
Award
2010

Annual Best Research Award, G-COE Program, Chiba University

2011

Tadamitsu Kishimoto International Travel Award, Japan Sciety for Immunology

2012

Chiba Medical Society Young Investigator Award
Society Membership
Japan Sciety for Immunology,
The Japanese Society for Epigenetics